Musical Lairs House Concerts
Featured Performer
April 22, 2017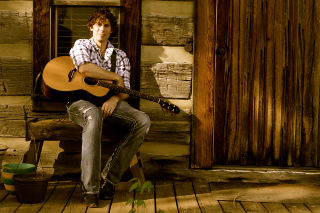 Jesse Terry is a singer/songwriter with an uncanny ability to weave tales of travel and homecoming, of sorrow and of redemption, into songs that are simultaneously timeless and fresh. Home is now the coastal village of Stonington, Connecticut, but Terry's music reflects an amalgam of influences, from Nashville to Laurel Canyon. His melodic and lyrically-driven Americana fits naturally on a playlist between cuts from Josh Ritter, Jackson Browne, Ryan Adams and Neil Young.
"I think I always needed music," Terry explains. That simple truth encapsulates the style of an artist whose lyrical depth has garnered multiple songwriting accolades. The buzz over Jesse Terry continues to build, with tours bringing him from coast to coast and across oceans to the UK, Italy, the Netherlands, and New Zealand. His music has appeared in CW's Hart of Dixie and PBS's Roadtrip Nation. Last year, ABC used "Stay Here With Me" for its series "Forever."
Terry draws from a wellspring of emotional depth and combines it with performance skills honed over hundreds of shows and hundreds of thousands of miles on the road. The result is a palette ranging from poetic ballads to uptempo, rootsy pieces, always beautifully crafted and displaying sweet wistfulness and heartache. This is music that explores the contrast of light and dark, with a core that is timeless and authentic. Jesse has an undeniable talent for connecting with his audience - to share stories that are personal, yet utterly relatable - to create a sense of home, even among the strangers he meets on the road. And that is the gift of Terry's music -- in a song, he gives us a promise of a place to call our own.