Musical Lairs House Concerts
Featured Performer
March 21, 2015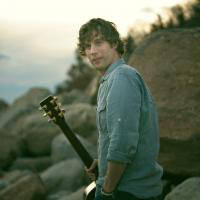 Jesse Terry is an internationally award-winning singer-songwriter whose transcendent life and music make him one of the most prolific indie artists today; his intimacy with audiences, sincerity, and approachability solidifying him as a favorite at nationwide live venues and concert series. With three full-length albums, The Runner, Empty Seat On A Plane, and Stay Here With Me, this salt of the earth musician's lyrical mastery, emotional depth, and soothing voice have often been compared to the likes of Ryan Adams, Jackson Browne, Ray LaMontagne, and James Taylor, reaching deep into listeners' hearts to envelope them in shared joy, sadness, love, and unrelenting hope. The Grand Prize winner of The John Lennon Songwriting Contest, The NSAI/CMT Song Contest, and The We Are Listening Singer/Songwriter Awards, he has garnered worldwide acclaim including the elite honor of performing for US and NATO troops stationed at Thule Air Base in Greenland, and an official endorsement by Stonebridge Guitars International.
"His ability to craft memorable songs is complimented by his supreme ability to deliver them in a sometimes funny, sometimes gut wrenching, but always sincere and authentic manner," praises Dave Dircks, host of the #1 Acoustic Podcast on iTunes, Acoustic Long Island. "At the core of it all, his personality - sunny naivety meets gritty wisdom - is what sets Jesse Terry apart..."
On his own from a young age, Jesse defied the odds by nurturing his passion for music; attending the prestigious Berklee College of Music, landing a Nashville Publishing deal only two months after graduation, touring the globe, and building a close and ever-expanding fan base who avidly funded his last two albums via Pledge Music campaigns. His audience grew quickly from one, his grandmother who was lulled to sleep by his guitar playing and toe-tapping, into a strong grassroots foundation of worldwide individuals who were captivated in settings spanning from intimate listening rooms to house concerts and festivals both small and large.
"(He's) a force to be reckoned with," iconic DJ of NYC's Rock & Roots Public Radio WFUV John Platt calls Jesse. "His well-crafted songs rank right there with Ryan Adams, Rhett Miller, and other masters of alt-country." Legendary Tony Arata, renowned singer-songwriter and 2012 Inductee into the Nashville Songwriters Hall of Fame lauded him by saying, "I have been a fan of Jesse Terry since the first time I heard him. He's a humble - and humbling - talent."