Musical Lairs House Concerts
Featured Performer
Michael Braunfeld
March 15, 2014 - Reserve Seats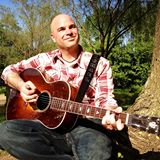 In 2013 Michael Braunfeld was awarded a prestigious slot on the Emerging Artists Showcase at the Falcon Ridge Folk Festival and was also selected for a coveted Quad Showcase at the Northeast Regional Folk Alliance Conference. There was a Saturday night round at the legendary Bluebird Cafe in Nashville and his eighth appearance at the Philadelphia Folk Festival. There have been sold-out shows, two new limited edition EPs and a collection of new material that is winning new fans over at each stop down the road. Not bad for somebody just returning from a decade-long hiatus from writing and performing.
Michael recorded his debut album, Some Things Aren't Worth Crying For in 1991, when he was just 16 years old. Despite his youth, he was unafraid to tackle topical issues such as homelessness and the environment. His love songs on that release, written when he was a sophomore in high school, took listeners back to a time when everything mattered and nothing was unimportant. "When It All Comes Down - Live" followed and showcased Michael's intense live performances. Still addressing issues that mattered to him, such as child abuse and coming of age in a nation at war, the songs on When It All Comes Down definitely became more personal. The songs "Circles", still a crowd favorite after nearly 20 years, and "Tonight" received national airplay, propelling Michael onto the stages of some of the most prestigious venues and festivals around. He continued performing and honing his craft, headlining on the coffeehouse circuit and opening for acts like Jonatha Brooke, Bill Morrissey, John Wesley Harding, Bill Miller and Eric Andersen. Steel City was recorded before a packed Steel City Coffee House and captured the communion between artist and audience that came to be the hallmark of Michael's shows.
In 2001, Michael traded life on the road for the stability of marriage and family life. He channeled his creative energy into working with Philadelphia area arts organizations and began producing and promoting artists and events. Michael is currently co-artistic director (along with his father, Andrew) of the Spring Gulch Folk Festival. It was at Spring Gulch in 2011 where an impromptu performance with the incomparable Buskin & Batteau as his band, had unintended consequences. "I just wanted to sing a song for my son on his birthday," Michael said of the appearance. However, he soon found himself being invited to perform again at the 50th annual Philadelphia Folk Festival. Whether addressing topical issues or sharing personal stories that often leave his audiences feeling he has somehow invaded their privacy, Michael's performances combine a powerful guitar style with a seemingly endless supply of urgency.