Musical Lairs House Concerts
Featured Performer
May 28, 2016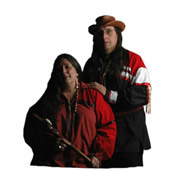 Once you hear one of Spirit Wing's impassioned performances you will not soon forget their intense respect for their people and the history of Native Americans or that they have become one of the most popular Native American acts in the Middle Atlantic States.
Spirit Wing was a finalist for Native American Music Awards in 2006, 2007, 2009 and 2010. Since the year 2000, Spirit Wing has appeared at many Native American Festivals within Pennsylvania, New Jersey, Delaware, Maryland, and Virginia. They are also a popular feature at Coffeehouses and Folk and Acoustic music festivals.
Their music comes from a strong folk/acoustic music tradition along with traditional Native songs that date back hundreds of years. All four members of Spirit Wing have performed in various types of bands and ensembles that feature Rock, Blues, Bluegrass, and Country music.