Musical Lairs House Concerts
Featured Performer
June 10, 2017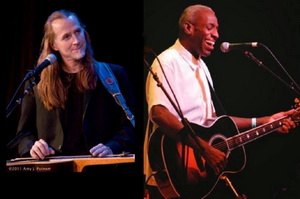 Born in Philadelphia's inner city in 1952, Reggie Harris was raised by his mother and grandmother. They lived on little and wore second-hand clothes. But they instilled the value of treating people with love and respect. Neither his church nor his household was involved actively in the Civil Rights movement, but the protests in the south and the March on Washington were on the news. Down the street, Leon Sullivan preached about equal treatment The young boy saw members of this church working for integration and equality.
Reggie often found himself in situations which were outside his comfort zone. Attending schools away from his neighborhood, he realized that many in his 'hood' had little connection to the wealth and power that dominated society. He became aware of how blacks were disadvantaged in the larger world. He also learned that economics and class often transcended race; some black kids considered him undesirable for dating or socializing because he lived in the projects.
Reggie started studying for the ministry in Atlanta, but dropped out. His sense of the world was dramatically reshaped by daily exposure to the realities of segregation and inequities in the deep South. Returning to Philadelphia, he attended Temple University and worked with emotionally challenged children. Through that work he met two men who were Conscientious Objectors against the war in Vietnam. One of them gave him a daily lesson in 'Life and Politics 101,' challenging his political views and stand up to the injustices he was beginning to see. All became fodder for the budding singer-songwriter.
An American by birth, Pat Wictor's early years were spent in Venezuela, Holland, Norway, England, and East Texas. His time abroad gave him the perspective of a world citizen, and set him on a journey to understanding America - and his own American-ness - through music. Through these early experiences, he gained an appreciation for taking different paths to arrive at the same destination.
Pat took a convoluted path to folk music, winding his way through rock, heavy metal, and jazz. He started with guitar, shifted to bass, moved to saxophone, and then quit music entirely before a return in 1993, a time when he also began writing songs. By 2001, he left a teaching career to pursue music full time and does so in the broadest way possible. An adept improviser and accompanist, he is sought after as a collaborator, sideman and session musician, with dozens of recording credits to date. His monthly e-mail column, "A Few Choice Words," is read by thousands of subscribers. He is a music educator of note, teaching workshops on improvisation, writing, interpreting, and rearranging songs, on slide guitar and other guitar techniques, and various topics of music history.
Recognition and honors have followed Pat for years: he won the Falcon Ridge Emerging Artist Showcase, was nominated for Emerging Artist of the Year by the Folk Alliance, was nominated for Gospel Song of the Year by the Independent Music Awards, and was a finalist in the Kerrville New Folk songwriting contest.
Reggie and Pat have taken very different paths that have in recent years, dovetailed frequently and a wonderful musical and personal friendship has evolved. Besides solo work, they each have projects with other musicians and are involved with Phil Ochs' Song Nights to keep the music of one of their greatest musical and social influences alive. It is a rare treat to see and hear these two dynamic and talented performers together. Magic happens.