Musical Lairs House Concerts
Featured Performer
February 13, 2016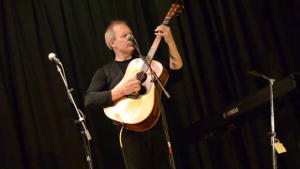 Beneath the radar of the corporate music world there are gems to be found. Greg Greenway is a multi-faceted one. A rare combination of instrumental expertise, a soulful and moving singer, powerful poet, and sparkling entertainer, Greenway is one of those difficult-to-categorize performers who have found a home in the modern acoustic genre. His collaboration with Joe Jencks and Pat Wictor as Brother Sun has taken him all over North America for the last five years and garnered the number one CD on the Folk DJ list for the year 2013.
Originally from Richmond, VA, Greg moved to Boston for its rich Folk Music tradition and has become one of its most unique and superlative emissaries. His In the Name of Love, a lead in to the U2 classic, "Pride", was the #5 song in 2013 and has become a defining piece for his journey from his origins in the South to one of the foremost artists able to open the door of Race in a way that connects us to our humanity and entertains us at the same time. He has been described as "one of the strongest, and finest voices in folk music." The Boston Globe wrote, "Confessional one moment, rambunctiously disarming the next, few modern folk singers can own a coffeehouse stage as completely as Greenway."
Prior to Brother Sun, Greg was a regular at Musical Lairs, having graced our stage many times. Now, it is a very rare treat to hear him in a solo performance. This is a not to be missed evening.