Musical Lairs House Concerts
Featured Performer
March 18, 2017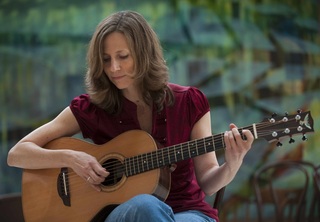 Tracy Grammer rose to acclaim as half of the "postmodern, mythic American folk" duo, Dave Carter & Tracy Grammer. From 1998-2001, the duo released three internationally celebrated, folk chart-topping albums featuring Carter's mytho-poetic Americana songcraft and in 2002, toured with Joan Baez, both as featured artists and Baez's band members. Called "the new voice of modern folk music," the duo was clearly in its ascendancy when in July 2002, Carter suffered a fatal heart attack while the duo was on tour. He was 49; Grammer, 34.
Determined to honor the duo's journey and bring Carter's songs, and those of other favorite writers, to broader audiences, Grammer has kept to the road, releasing solo albums as well as selections from the Dave Carter & Tracy Grammer archives.
Grammer has become one of folk music's most beloved artists. Renowned for her springwater-clear alto, perfectly intoned violin, and guitar playing that is by turns percussive and delicate, Grammer is also a masterful storyteller with an ease and charisma on stage -- not to mention a riotous sense of humor -- that hardly belie her modest beginnings as Carter's reclusive accompanist. Stories about the duo's first meeting, Carter's quirks and fancies, or Grammer's own misadventures and missteps are woven thoughtfully into the set list to create a uniquely personal evening that connects audiences to performer, to the Carter/Grammer legacy, and most importantly, to one another.
Grammer tours the United States and Canada regularly, and has traveled to Europe and Japan. She holds the record for the most consecutive appearances at the Falcon Ridge Folk Festival -13. In addition to touring, Grammer is the director of the Dave Carter Legacy Project - a project of Folk Alliance International. Her publishing company, Tracy Grammer Music, administers licenses for Carter's catalog of music. She lives in Greenfield, Massachusetts with her beloved Miss Kitty.